The Museum of Vertebrate Zoology at Berkeley
Access and Hours
The MVZ administrative office is open Monday through Friday, between the hours of 8 am -12 pm and 1 pm -5 pm. Special arrangements may be made with individual Curators at their discretion for use of the collections during evenings and weekends.
Public Access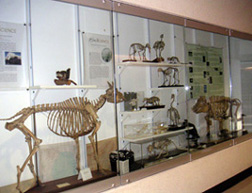 The Museum is primarily a research facility that is closed to the public. There are no regular tours given or exhibits displayed within the Museum. However, there are public displays directly outside the Museum and in the two adjoining hallways of the Valley Life Sciences Building.
In addition, we are open to the public with special displays during Cal Day.
Researcher Access
Admission and use is granted to research scientists, graduate students, and other visitors with a scientific interest in the collections. Access to the collections is by appointment only. Requests to visit the collections should be made to the appropriate director at:
Museum of Vertebrate Zoology
University of California
3101 Valley Life Sciences Building
Berkeley, California 94720-3160 USA
Phone:
(510) 642-3567
Fax: (510) 643-8238
Student Access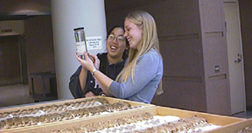 Access to the collections for graduate students is by appointment only, please contact the appropriate curator.
For undergraduates, there are several classes on campus that either give short tours of the Museum, or use some of its collections for teaching. For more information, see
Undergraduate Opportunities.
Tours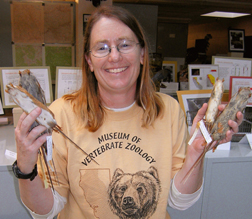 Professors and Graduate students on campus can request a tour for their UCB class.
Please contact mvz@berkeley.edu to set up a tour for your class.
Ideally, we should be contacted at the beginning of the semester. We will not consider tour requests with less than a month's advance notice.
Classes over 15 people will need to be split up for the tour into sections.
Staff curators are in charge of pulling and reinstalling specimens, and we have limited staff resources, so please consider that when requesting a tour.
---