The Museum of Vertebrate Zoology at Berkeley
CalDay at the Museum of Vertebrate Zoology

Every year on Cal Day, the MVZ displays some of its more interesting specimens, provide hands-on experiences with animals like snakes, frogs, lizards, tuco-tucos, rabbits, salamanders and hedgehogs, and at the same time teaches the public something about the environment and animal biology.

This is the only opportunity most people get to see the insides of one of North America's largest collections of mammals, birds, amphibians and reptiles.
The MVZ has no public exhibits, but we make an effort to show off some of our 600,000 plus specimens on U.C. Berkeley's annual open house.
Most years we get over 2,000 visitors!
With the help of the Integrative Biology Department, the East Bay Vivarium, Papaya Pythons, and our students and staff, we have many snakes and other animals for the public to view and hold.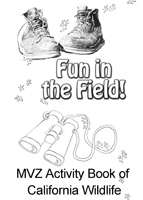 Download the 2011 Cal Day Coloring Book for free!
Our students and staff attend this event and are here to share their enthusiasm about the museum, to show off the animals and displays, and tell visitors about the collections.
The next Cal Day is Saturday, April 22, 2017.

Hope to see you there!
---
See highlights from previous Cal Days:

Cal Day 2016
Cal Day 2015
Cal Day 2014
Cal Day 2013
---