The Museum of Vertebrate Zoology at Berkeley
Museum Education and Outreach

The MVZ has become much more accessible in recent years. Although the collections have always been used for teaching organismal biology classes, and Faculty Curators have led the popular Vertebrate Natural History course (IB 104) for many years, the Museum often is toured by non-organismal biology courses such as wildlife ecology and conservation biology. Researchers around the campus recognize the importance of showing students the collections and their relevance to many aspects of biology. We also host tours by classes from other institutions such as San Francisco State University, various academic outreach groups (Biology Scholars Program) and have been involved in hosting the Bay Area Biosystematists seminar series.
The MVZ, as part of the Berkeley Natural History Museums, has been involved with the NSF funded K-12 program. This program allows graduate students to teach natural history topics to elementary and high school students, introduce them to the MVZ and other collections, and take them on field trips.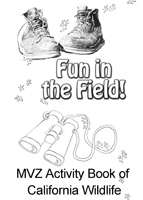 Download the 2011 Cal Day Coloring Book for free!
Cal Day
offers the public, and the rest of the University, the opportunity to visit the museum, view specimens not normally displayed, and handle some live animals.
The MVZ is a research collection, but is home to as many as 25 graduate students at a time. Prospective graduate students should contact the Integrative Biology department and the Faculty with whom they are interested in working. Faculty curators teach many of the Integrative Biology organismal courses.
The Museum's Undergraduate Program offers a unique experience for UCB students. Students can begin by volunteering and move on to many other research and collection related activities. We encourage all applicants. Motivated and dedicated students will find a diverse array of opportunities open to them over time. Read more about our Undergraduate Program and see our Undergraduate Opportunities.
The Museum also provides education and outreach through international research collaborations. For example, MVZ researchers often take local students into the field when conducting studies in foreign countries. In addition, MVZ researchers may sponsor drives to collect scientific books to send to underdeveloped nations. A letter from the President of Amoud University in Somaliland shows the benefit of such donations.
---