The Museum of Vertebrate Zoology at Berkeley
Informatics at the MVZ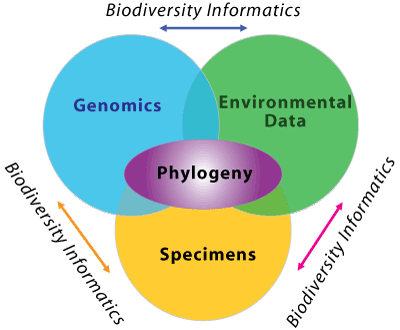 Information management and dissemination has been the heart of MVZ's activities since its founding. Nowadays we refer to a broader concept of biodiversity informatics, to encompass the data streams and connections that allow us to integrate datasets into synthetic answers to questions of evolution, ecology, and much more.
We are committed to making MVZ data widely accessible to researchers and the general public. The MVZ was one of the first natural history museums to fully computerize its specimen collections (1978-84) and make available online (1997). Currently, the Museum uses Arctos as its primary database system. Arctos is based on a relational data model developed by the MVZ in the 1990s, and is an ongoing collaboration with the University of Alaska Museum and the Museum of Comparative Zoology. Arctos integrates with BerkeleyMapper, GenBank, CalPhotos, and distributed data networks such as VertNet, GBIF, and Berkeley Natural History Museums.
In 2005, the MVZ participated in a strategic planning initiative for support of Biodiversity Informatics and Information Technology across the Berkeley Natural History Museums. This effort was joined by the museums and the UC Berkeley Museum Informatics Project/Interactive University. The goal was to discuss and encourage collaborations among the museums and to garner campus-wide support. Read more about the BNHM IT partnership.
Find out more about the Biodiversity Informatics Lab by contacting Michelle Koo.
Informatics projects that involve MVZ:
(See our Current Projects.)
| | |
| --- | --- |
| AmphibiaWeb | An online system for free access to information on amphibian biology and conservation. |
| Amphibian Disease Portal | A data repository for chytridiomycosis data (Bd and Bsal) to facilitate understanding of this emerging infectious disease, a leading cause of worldwide amphibian declines |
| Berkeley Mapper | An application to map spatial information from distributed sources. |
| BioGeomancer | A worldwide collaboration to maximize the quality and quantity of biodiversity data that can be mapped with a semi-automated web tool. [Deprecated] |
| DiGIR Mapper | A web-based Geographic Information Systems (GIS) tool for visualization and analysis of species distributions using specimen data. |
| Digital MVZ | Digital access to ancillary media and reference data for specimens, field and lab work; an ongoing effort to digitize archival and modern fieldnotes, sound files, and photographs. |
| DIVA-GIS | Free GIS software for biodiversity research. |
| Holos: Berkeley Ecoinformatics Engine | An API and visualization portal for integrated specimen data, field station data, climate models, eco-environmental layers for exploring and analyzing biotic interactions and global change biology |
| HerpNET | An international data network of herpetological specimen collections. |
| MaNIS | An international data network of mammal specimen collections. |
| ORNIS | An international data network of avian specimen and non-specimen based institutions. |
| VertNet | Cloud-based data network of international vertebrate collections |
| WORLDCLIM | A set of global climate layers for GIS analysis; one of the most cited datasets in biodiversity research. |
---