The Museum of Vertebrate Zoology at Berkeley
MVZ Policy and Permission Use Form for Photos, Fieldnotes, Correspondence, and Other Archival Materials
MVZ Policies, Guidelines and Procedures
---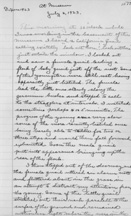 Photographs, field notebook pages, correspondence, and other archival materials may not be reproduced, distributed, publicly displayed or otherwise used, in whole or in part, without written permission from the MVZ. These materials may be reprinted and distributed for academic and other uses with express written permission. No materials may be used for financial gain or resale.
When permission is given, materials may be used, downloaded, reproduced, publicly displayed, distributed or reprinted by persons affiliated with academic and/or non-profit organizations for scientific and scholarly purposes only, provided that the following attribution appears in all published use: "With the permission of The Museum of Vertebrate Zoology, University of California, Berkeley."
Use of photographs or other MVZ materials on personal or academic web sites must be authorized by the Museum. Images must be credited to the "Museum of Vertebrate Zooology, UC Berkeley."
Publication permission is given for ONE TIME USE only.

Physical copies of MVZ written materials and photographs are charged at cost. There is no charge for the use of online/electronic materials.
To submit a request, contact mvzarchives[at]berkeley.edu. We ask that you complete our Permission Use Form and fax it to Carla Cicero/Michelle Koo at 510-643-8238.
Permission Use Form (PDF)
---