The Museum of Vertebrate Zoology at Berkeley
Prospective Graduate Students, Postdocs, & Visiting Researchers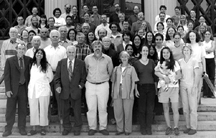 The MVZ has an active research program that includes a large number of graduate students, postdoctoral fellows, and visiting researchers. These individuals are housed within the Museum, interact closely with each other and with Faculty and Curators, and have access to all of the Museum's facilities and resources. MVZ researchers are expected to participate in the weekly "MVZ lunch" seminar series, give seminars on their own research, and attend lab group meetings with their Faculty sponsor. They are also welcome to attend the many other biological/environmental seminars held on the Berkeley campus.
Prospectives should familiarize themselves with the following:
Also, please browse our website as an introduction to the Museum -- especially the pages under the sections Collections, Research, and Facilities.
Please read about our funding sources, as well as external funding resources.
Additional Information and resources for:
---