The Museum of Vertebrate Zoology at Berkeley
Spotlight on Shelby Medina
MVZ People
---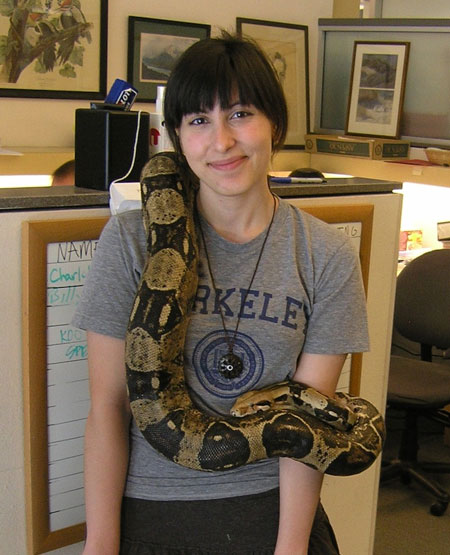 Shelby Medina's current dream job – a zooarcheologist – may sound strange to some, but it has been built off of a lifelong passion for biological anthropology. Shelby was interested in a variety of careers as a child, including being an archaeologist, a vet, and a forensic anthropologist. Her very first dream job, though, was to be a baseball player. "But that ended quickly when I was told by my first grade teacher 'You can't, you're a girl!'," said Shelby.
Shelby's scientific interest was stimulated by trips to museums, zoos, and libraries with her father and her school. A two week summer project studying ecology in the Galapagos Islands further piqued her curiosity. Her passion for anthropology grew over the years, and Shelby is now graduating with a degree in it. Finding the biological aspects of anthropology more interesting than the social or cultural ones, Shelby discovered a niche in zooarchaeology.
Shelby studies the remains of animals that humans have interacted with, chiefly by eating or hunting, as a means of reconstructing environments and studying identities and practices.
Shelby says she became involved with the MVZ through "sheer luck". After transferring to Berkeley as a junior from Chaffey College in Rancho Cucamonga, she applied to several URAP positions. She was accepted as a prep lab assistant, and has remained involved, now coordinating prep lab classes. A busy schedule of classes and URAP volunteering made it important for Shelby to find a balance between downtime, studying, and working. "Everyone in the museum is very supportive of their undergrads, and that's really important. They're willing to work with them and understand they have classes and other commitments," Shelby said.
Shelby advises undergraduates interested in science to seek out opportunities with the MVZ. "There are so many opportunities present there, and so many people you can meet who can guide you on your way," said Shelby. Shelby also emphasizes that college is the perfect time to explore one's interests. "It's okay to switch things up constantly because you don't know what you want to do yet. Feel around, and if you think you might be interested in something explore it. Don't be afraid to take classes outside of what you know," Shelby said.
Outside of her scientific activities, Shelby enjoys playing softball, knitting, and cooking. Shelby's plans upon graduation are undecided at the moment, but she intends to take a year off before going to graduate school or furthering her career in anthropology in another way.
--By Lindsey Agnew (MVZ Undergraduate)

Shelby Medina prepares herself for a career in anthropology.
---