The Museum of Vertebrate Zoology at Berkeley
MVZ Archive Project
In January 2012, The Museum of Vertebrate Zoology was awarded a three-year grant from the Council for Library and Information Resources to catalog and make more accessible its hidden archives of fieldnotes, correspondence, annotated maps, images, and artwork. This exciting new project will eventually provide access to evidence of the historical, ecological, legal, and sociological context for the vertebrate specimens that comprise the Museum's collections. Read more about the CLIR funding here.
01/09/2015 12:52 PM
More from the Reprints
My quiet Friday afternoon involved working on the Reprint collection. It is a challenge not read  every title. I made it as far as #0165. This small publication was written 100 years ago by Walter P. Taylor and it is titled, … Continue reading →
11/04/2014 12:02 PM
Merriam papers reveal ode to an everyday mammal
Written by Greg Borman, Museum Archival Assistant While searching for the date ranges of materials in numerous folders that make up the MVZ Archives' Clinton Hart Merriam papers, I found myself going through correspondence, manuscripts, and notes relating to a … Continue reading →
10/07/2014 01:50 PM
The Bone Dagger Discovery
Written by Anna Hiller, Curatorial Assistant A few weeks ago Carla Cicero (Staff Curator of Birds) and I pulled a Cassowary skeleton (Casuarius bennetti hecki) to send a humerus to a researcher for sectioning. Since the Cassowary is an example of a … Continue reading →
The MVZ formerly received funding from the National Science Foundation in 2003 to capture metadata for its collections of historic fieldnotes, photographs, and annotated maps, and to digitize material from pre-1950 collecting expeditions in California. The primary goal of this project was to increase access to this invaluable material for scientific researchers, conservation and management agencies, non-governmental organizations, historians, and other users, while also contributing significantly to the Museum's own research, education, and curatorial programs. Notably, this effort continues to have direct relevance to the MVZ's Grinnell Resurvey Project, which aims to revisit over 200 sites in California to examine spatiotemporal changes in fauna in the context of natural or human-induced environmental trends.
With the help of the CLIR grant, the Museum aims to build upon the achievements of the NSF project and to provide even more comprehensive access to its archival materials in the future.
Field Notes
Thus far, ~45,000 pages of field notes (of an estimated 100,000 pages) have been scanned and are available online. Notes are searchable by author, year, and section title, but future developments and ongoing data capture will enable broader search capabilities. One such development is GReF, a web application that was developed to capture data from scanned notebook pages and to link those data to the MVZ specimen database.
Photographs
The museum's collection of ~13,000 historic prints have been scanned for archiving and access. Each print contains two scanned versions: a lower resolution tiff (300 ppi) that shows the image mounted on a data card; and a higher resolution tiff (1200 ppi) of the image without the card. Photographs have been processed into three additional files for online viewing: lower resolution jpeg, thumbnail, and tiled jpeg. The images and associated metadata are accessible through both the Museum's specimen database (Arctos) and the campus photo repository (CalPhotos).
Preview MVZ Historical Photos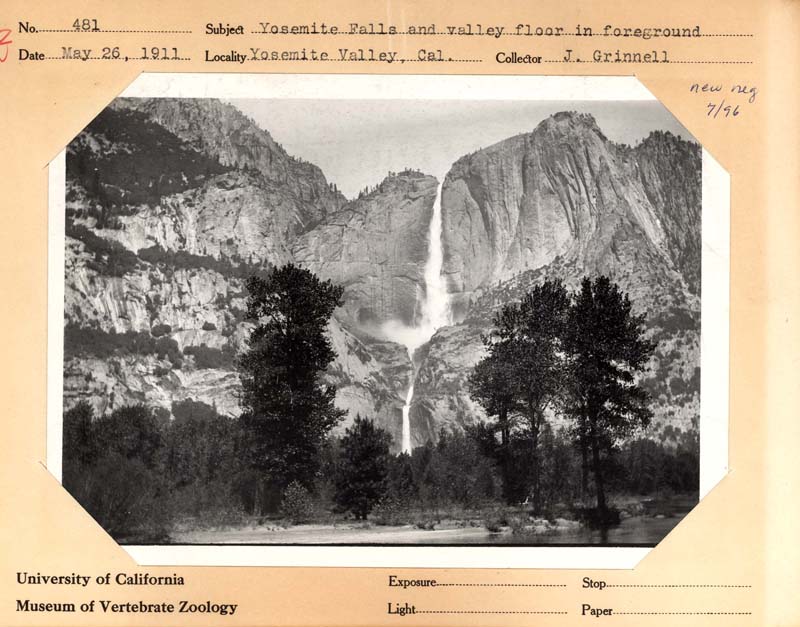 View a list of the first 4000 catalogued photographs, which highlights the Museum's earliest photos (1907-1923). They can be browsed by image number, year, or general locality.
Read more about these collections
.
---