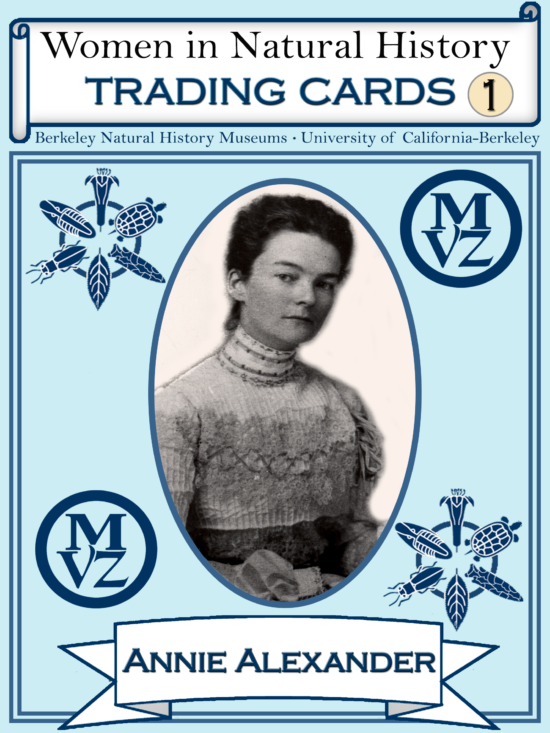 Annie Alexander grew up in Hawaii surrounded by tropical flora and fauna. Her father, Samuel Alexander, had a penchant for the outdoors and wilderness, a passion that Annie inherited. Annie's paternal grandparents came to Hawaii in the 1830s as missionaries. Her father's formal education was sporadic but in 1863 he was hired as manager of a sugar plantation where he was incredibly successful and grew the plantation into one of the largest sugar companies in the world. In 1882 the Alexander family relocated to Oakland, California. Annie spent her teenage years surrounded by the state's native animals and plants. As a young woman she traveled frequently with her family, including several trips abroad to Europe.
In the fall of 1900, Annie enrolled in Professor John C. Merriam's paleontology course at UC Berkeley. She quickly became passionate about the field and joined Merriam and his assistants on a dig in Fossil Lake, Oregon. Her knack for locating important fossil specimens proved extraordinary and she donated several to the university's collections. Annie continued to participate in Professor Merriam's expeditions and supported them financially throughout her life.
In 1904, Annie visited Africa with her father, Samuel, on a safari. Tragically, he passed away in an accident on the trip. Deeply moved by her father's death, Annie decided to dedicate her life to scientific endeavors in natural history and the conservation of California's native fauna. In 1907, Annie donated a large amount of money to establish a natural history museum at UC Berkeley that could provide research materials for comparison for paleontologists and a complete history of California's fauna.
Annie believed that establishing such research collections and expanding public education was the only way to conserve wildlife. She was initially pressured to open a museum at Stanford University, but she pushed for it to be located at UC Berkeley where her studies in natural history had begun. Annie's donations established both the Museum of Vertebrate Zoology and the Museum of Paleontology at UC Berkeley. She believed a museum that showcased the natural fauna of the west would entice the public to love natural history as she did. Annie continued to donate money to both museums for expeditions and for operations throughout her life.
Annie was not only the Museum of Vertebrate Zoology's benefactor but also one of its most prolific collectors. She spent months camping in harsh conditions, collecting specimens and conducting research. Annie continued to grow the museum's flora and fauna collection by visiting places with colder climates like Alaska and Canada. She amassed over 6,000 specimens for the MVZ, over 20,000 fossils for UCMP, and over 6,000 botanical records for the UC Jepson Herbaria. Several species were named after her, including a legless lizard endemic to California's San Joaquin basin, Temblor Legless Lizard (Anniella alexanderae) in 2013.
Annie lived with her fellow intrepid collector and partner, Louise Kellogg, for 42 years. Annie and Louise established a farming business in the Sacramento delta, where they grew seasonal crops, such as asparagus, to coincide with their extended expeditions. Annie continued to collect specimens and to advocate for scientific documentation of nature until her death.