The Museum of Vertebrate Zoology at Berkeley

Sep 24, 2018
MVZ Newsletter - September 2018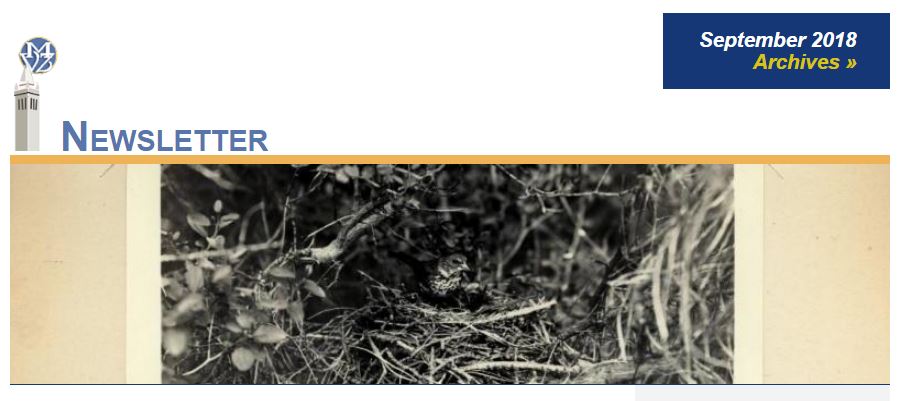 September 2018 Newsletter is now available featuring:

- Grinnell Resurvey Project
- Climate Change and Birds
- Post-Cretaceous Dietary Radiation
- Invasive Bullfrogs
- Mito-Nuclear Discordance
- MVZ Kudos
- MVZ Alum, Jessica Castillo Vardaro
- Video pick - KQED Deep Look "How Elephants Listen"
- Podcast pick - "A biology prof on growing up gay in rural Minnesota"
- Audio pick - The WyoBio Minute "Dermestid Beetles" with MVZ Alum Elizabeth Wommack
- Blog pick - Second Annual Digital Data in Biodiversity Research Conference
Aug 28, 2018
Apply Now!
Resident Director, Hasting Natural History Reservation
The MVZ is searching for a new Resident Director for Hastings Natural History Reservation

Apply by September 11, 2018 to ensure full consideration by the committee. Applications will continue to be accepted until September 28th, 2018, but those received after the review date will only be considered if the position has not yet been filled.

The Museum of Vertebrate Zoology at the University of California, Berkeley, is seeking applications for a Resident Director for the Hastings Natural History Reservation. This position is in the Academic Coordinator 2 Series, Steps 1-10. The position is full-time (100% appointment); salary is commensurate with experience. Hastings is a 2500-acre field station located in the Carmel Valley of Monterey County, CA. As part of the University of California Natural Reserve System (https://ucnrs.org), Hastings serves as an internationally recognized center for field research and field-based educational activities. Additional information regarding Hastings is available at http://hastingsreserve.org

Responsibilities:
The Resident Director will oversee all day-to-day aspects of the operations at Hastings, including maintenance and development of the physical facilities, coordination of visitor activities, and management of financial resources. In addition, the Resident Director is expected to engage in significant public outreach efforts such as (1) interacting with local land trusts, NGOs, and government agencies to promote understanding of the Reservation and (2) encouraging use of Hastings for workshops, symposia, and small conferences that are consistent with the research and education goals of the Reservation. The Resident Director will also play an active role in fundraising to support the Reservation, including preparing competitive grant proposals and interfacing with campus fundraising efforts. The Resident Director will supervise the activities of the Reserve Steward and will work closely with the Faculty Director at the MVZ to shape the research and educational goals of the Reservation.

Minimum/Basic Qualifications required at the time of application:
A Bachelors' degree (or equivalent international degree) is required at the time of application

Preferred Qualifications:
A graduate degree (M.S or Ph.D. in biology or equivalent international degree) is strongly desired, ideally with an emphasis in ecology, conservation, or ecosystem management. Experience with contractors and maintenance of physical facilities is preferred.

Salary: This is a full-time position. Salary is commensurate with experience.

How to apply:
To apply, please go to the following link: http://aprecruit.berkeley.edu/apply/JPF01832 Applicants should submit the following materials:



A cover letter


A curriculum vitae


3 Letters of recommendation


The cover letter should address both the applicant's qualifications and their vision for Hastings within the context of the academic and research missions of the MVZ and the NRS. All letters will be treated as confidential per University of California policy and California state law. Please refer potential referees, including when letters are provided via a third party (e.g., dossier service or career center) to the UC Berkeley statement of confidentiality available at
http://apo.berkeley.edu/evalltr.html
prior to submitting their letters. Application materials should be uploaded to
https://aprecruit.berkeley.edu/apply
.
This position will be open until filled. The anticipated start date is 10/01/2018. Questions regarding the nature of the position should be addressed to the Faculty Director, Eileen Lacey (
ealacey@berkeley.edu
). Questions regarding the application process and online submission of documents should be addressed to Malaysha Nolan (
m.mnolan@berkeley.edu
).
The University of California is an Equal Opportunity/Affirmative Action Employer. All qualified applicants will receive consideration for employment without regard to race, color, religion, sex, sexual orientation, gender identity, national origin, disability, age or protected veteran status. For the complete University of California nondiscrimination and affirmative action policy see:
http://policy.ucop.edu/doc/4000376/NondiscrimAffirmAct
.
---
---