The Museum of Vertebrate Zoology at Berkeley
Aug 19, 2015
Undergraduate Opportunities in the MVZ – APPLY NOW!
Undergraduate Research Apprenticeship Program (URAP) for Volunteer and For-Credit Positions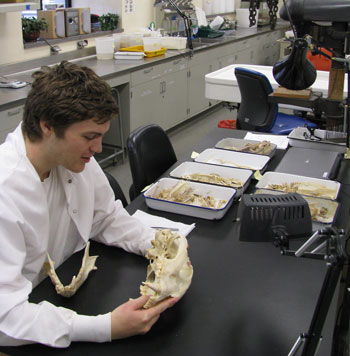 Gain hands-on experience in the Museum of Vertebrate Zoology! There's something for everyone (including starter positions with no experience necessary). Highlights include apprentice positions in Curatorial/Collections, Prep Lab, GIS/Informatics, Communication/Outreach, and in faculty led research labs.

>>Click here to view all MVZ URAPs

>>Click here to find out more about Undergraduate Opportunities at the MVZ


To Apply:

Aug 03, 2015
UC Berkeley News:
"Scientists urge ban on salamander imports to fend off new fungus"
A moratorium on US salamander imports may be the best defense against the deadly salamander chytrid fungus, Batrachochytrium salamandrivorans (Bsal), which is poised to devastate North American amphibian biodiversity. Yet, the US Fish & Wildlife Service has not acted to ban imports of salamanders to the US, pending more studies of this recently discovered pathogen. A growing chorus of advocates for a temporary ban includes a new Science Policy Forum report (Yap et al 2015), which presents a salamander vulnerability model showing the regions most at stake.

MVZ authors of the new Science paper include Tiffany Yap (MVZ visiting graduate student), Michelle Koo (MVZ Staff Curator), David Wake (MVZ Faculty Curator, Professor Emeritus), and Vance Vredenburg (MVZ Affiliated Researcher).

Photo by Tiffany Yap
---
---