Where to find us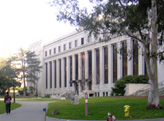 Museum of Vertebrate Zoology
3101 Valley Life Sciences Building
University of California
Berkeley, CA 94720-3160 USA
telephone: 510-642-3567
fax: 510-643-8238
---
Directions
On Campus:
To get to the Valley Life Sciences Building from Oxford St. and University St, enter the west entrance (past Springer Gateway), and up University Drive to the West Circle.
From there, if you face east (towards the hills), the Valley Life Sciences Building is the large, white columned building on your right that has "The Life Sciences" written on it and is decorated with animal seals.
The MVZ is located on the third floor of the Valley Life Sciences Building. Access is through the main museum office in Room 3101 VLSB, at the top of the central circular staircase in the building (one floor above the Biosciences Library).
---
Hours
There is no general public access to the museum and its collections. The administrative office, located in 3101 VLSB, is shared with the Berkeley Natural History Museums, and is open Monday through Friday, between the hours of 8 am – 12 pm and 1 pm – 5 pm, except major holidays.